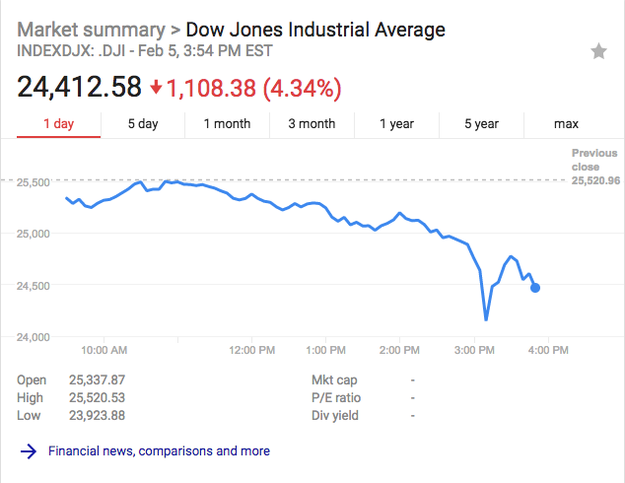 Google
The stock markets had a chaotic ride on Monday. After setting record highs, the Dow fell about 1,600 points today. By market close, it had recovered somewhat to a 1,100-point drop, a decline of about 4.6%. It was the biggest single-day point drop ever. While reading Dow tea leaves is always a bit fraught, market pundits generally attributed the sell-off to concerns on inflation.
Other indexes were also down. The S&P 500 closed down 4.1% and the Nasdaq Composite Index fell nearly 3.8%.
Last Friday, a strong jobs report that cited rising wages led to concern that the Federal Reserve would raise interest rates. Average hourly earnings in January were up 2.9% year on year, and employers added 200,000 jobs last month, according to the Bureau of Labor Statistics.
Some investors have been warning of a correction in the markets, which have been rising to new heights.
"Prices simply got way ahead of themselves on investor enthusiasm for tax cuts, strong corporate earnings and global economic growth," Barry Ritholtz, chair and CIO of Ritholtz Wealth Management, told BuzzFeed News in an emailed statement. "Or if you prefer, it is a merely the drunken random walk of Mr. Market."
President Trump has repeatedly taken credit for the rising stock market. If the decline worsens, that could present a political headache to go along with the economic one. The White House said in a statement to CNBC, "We're always concerned when the market loses any value, but we're also confident in the economy's fundamentals."
In a statement Monday afternoon, White House Press Secretary Sarah Sanders said, "The President's focus is on our long-term economic fundamentals, which remain exceptionally strong, with strengthening U.S. economic growth, historically low unemployment, and increasing wages for American workers. The President's tax cuts and regulatory reforms will further enhance the U.S. economy and continue to increase prosperity for the American people."
Originally Posted By BuzzFeed - Tech