Christopher Furlong / Getty Images
Facebook has issued a carefully worded statement that appears to admit for the first time that some Russia-linked accounts may have used the platform to interfere in the EU referendum.
Responding to two questions from BuzzFeed News on Monday about whether there were any Kremlin-linked ads on Facebook around the time of the 2016 Brexit vote, a spokesperson said the tech company had not "observed … significant co-ordination".
"To date, we have not observed that the known, coordinated clusters in Russia engaged in significant coordination of ad buys or political misinformation targeting the Brexit vote," said the spokesperson.
When pushed about whether the statement contradicted a top Facebook executive's earlier words that were was no evidence that Russia interfered in Brexit, a spokesperson said the official statement about "significant co-ordination" was the one the company was standing by.
The company refused to clarify whether the statement meant it was aware of at least some coordinated action during last year's referendum, despite several requests.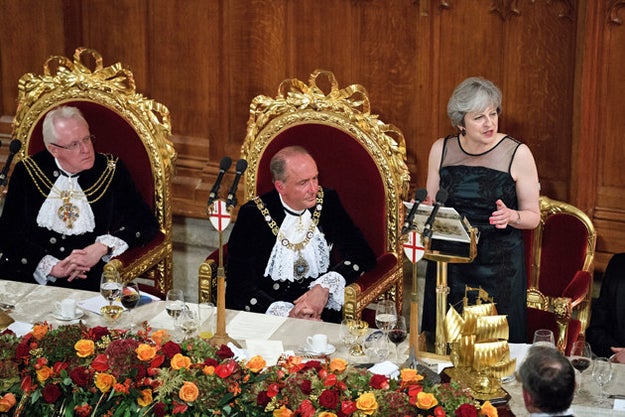 Leon Neal / Getty Images
On Monday night, Theresa May used a major foreign policy speech in London to call out Russia's "meddling" in recent elections.
Russia "is seeking to weaponise information," the prime minister said. "Seeking to deploying its state run media organizations, to plant fake stories and photoshopped images in an attempt to sow discord in the West and undermine our institutions.
"So I have a very simple message for Russia: We know what you are doing and you will not succeed, because you underestimate the resilience of our democracies, the enduring attraction of free and open societies, and the commitment of Western nations to the alliances that bind us."
As it did in the face of pressure from US lawmakers over the last 12 months, Facebook has slowly started softening its public language about whether Russia-linked accounts also went after the EU referendum.
UK MPs now want answers from the big US tech companies, calling for some detailed examples of just what Russian-linked accounts were posting about Brexit around the time of the vote.
The head of the House of Commons' digital media and culture committee Damian Collins has effectively widened the boundaries of the committee's "fake news" inquiry in order to chase down the issue of interference in the UK democratic process.
"As Facebook has provided this information to the United States Congress, in relation to the 2016 presidential election, I see no reason why such information cannot be provided to the select committee," Collins told BuzzFeed News.
Collins has written to Twitter, Facebook, and Google asking them to cough up details about what Kremlin-linked accounts had been using their platforms to interfere in the EU referendum and 2017 general election.
BuzzFeed News understands Collins is preparing to take the committee's inquiry to the US early next year for hearings with the tech giants.
Last week, evidence that Russia used Twitter to influence Brexit emerged, after Wired looked at a cache of social media posts from 2016 by accounts the social network had confirmed were Russian-backed. The report showed a "network of accounts posted pro and anti-Brexit, anti-immigration and racist tweets around the EU referendum vote while also targeting posts in response to terrorist attacks across the continent."
Originally Posted By BuzzFeed - Tech