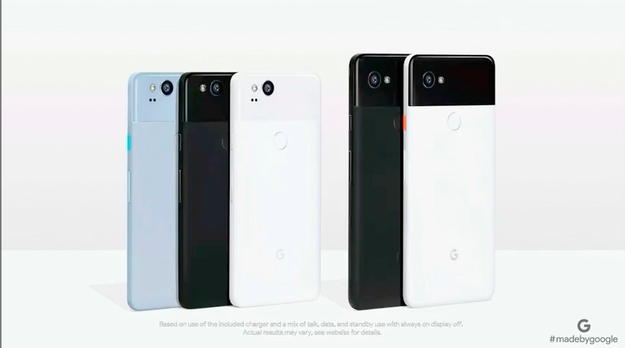 Google
Google's getting even more serious about smartphones. The 5-inch Pixel 2 and larger 6-inch Pixel 2 XL were unveiled today on the heels of the company's $1.1 billion deal to acquire HTC's smartphone business. The new, entirely Google-designed Pixel 2 has a high-resolution OLED screen, while the larger, more premium (read: expensive) Pixel 2 XL boasts a "bezel-light," almost edge-to-edge screen design. Neither have a headphone jack. Both models are packed with artificial intelligence innovations from Google.
The Pixel 2 models will come with a USB-C to headphone jack adapter for headphone traditionalists. They're also IP67 water- and dust-resistant.
This second-generation of Pixel devices goes after the latest trend in top-of-the-line phones: bright-as-heck screens that reach all the way to the phone's edge (or close to it).
Both the Galaxy S8 and the upcoming iPhone X have it, and Google's new Pixel 2 XL has similar look it calls "bezel-light," with rounded, instead of square edges. The smaller Pixel 2 has a more traditional screen, with thick borders on the top and bottom of the display. Both displays feature 4 million pixels, or 538 pixels per inch, with wide-color gamut support.
Google announced that DXO Mark Mobile, a camera rating agency, gave the Pixel the highest rating for a smartphone camera, again.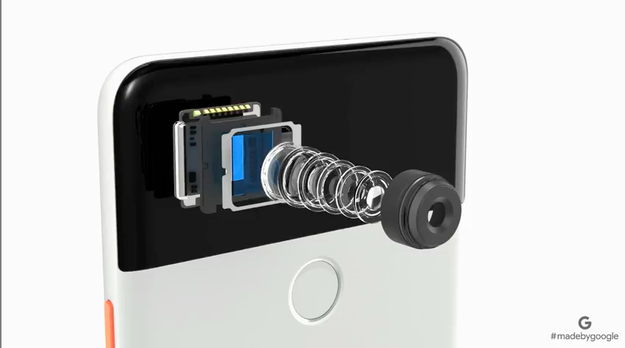 Google
The agency gave both the Pixel 2 and Pixel 2 XL a rating of 98, higher than last year's Pixel (which also broke smartphone camera records). This is significant because while many camera makers have moved to a two-lens camera, the Pixel only has one 12MP rear camera, and does much of its optimization with software. This year's model has increased dynamic range and improved sharpness with blur reduction.
Both Pixel 2 models have Portrait Mode, which adds a professional-looking blurred background to close-ups without needing a second lens (like Samsung's Galaxy Note 8 and Apple's iPhone 8 Plus). Because it's a software-side feature, Portrait Mode works with the front-facing selfie camera, too.
An image taken in Portrait Mode on the Pixel 2
Motion Photos is a new feature that capture three-seconds of video whenever you take a photo, like Apple's Live Photos capability.
Pixel users will continue to have unlimited, full-resolution photo storage in Google Photos, too.
The Pixel 2 comes in Kinda Blue, Just Black, and Clearly White. The Pixel 2 XL is available in Just Black, and Black and White.
Both phones run a "pure" Android operating system (version 8.0 Oreo), which is software that's unencumbered by additional, unnecessary software, as Samsung and other Android devices often are. Pixel phones run Android the way Google designed it. One of the benefits of buying an Android phone directly from Google is that your phone is the first to get new updates.
The Pixel 2 models also come with some new, exclusive software features.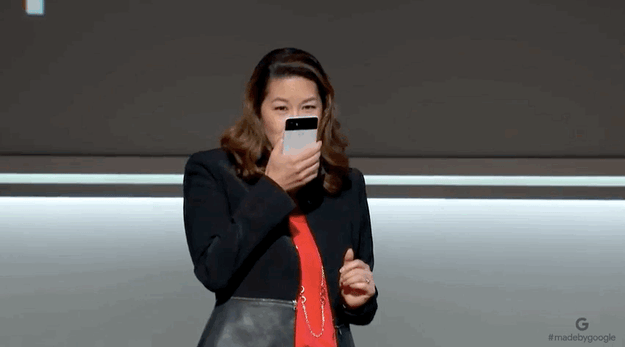 Google
"Now Playing" is like a built-in Shazam that listens to music playing around you and shows what's playing on the Pixel's display, automatically. You can also use what's called "Active Edge" to quickly activate Google Assistant by just squeezing the sides of the phone. It apparently works even if the phone is in a case.
If you have a Google Home smart speaker, you can send a voice message from your phone to your Home using the "Broadcast" feature. You can also take advantage of "routines" in Assistant. For example, you can say, "OK Google, let's go home," which will prompt traffic updates, read your last unread test, play your latest podcast, and text your partner that you're on the way.
A preview of Google Lens ships with Pixel 2 and Pixel 2 XL, the first smartphones to have the software.
You can use the phone's camera to visually search for more information about buildings, books, and more. Google's Knowledge Graph can tell you, for example, when the Buddhist temple you're standing in front of was built.
The new phones support augmented reality applications, too and can support 60 frames per second renderings.
The Pixel 2 will start at $649, while the XL version starts at $849.
Both phones will available in Australia, Canada, Germany, India, UK, and US through Google Store and Project Fi starting today, and they come with a free Home Mini. Pixel 2 will be available in Italy, Singapore, and Japan later this year.
Originally Posted By BuzzFeed - Tech