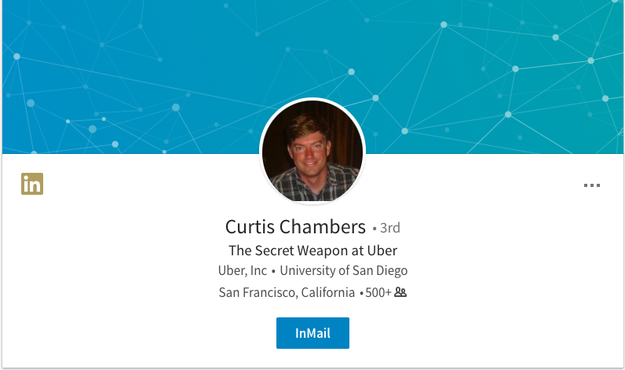 Via linkedin.com
Curtis Chambers, head of engineering at Uber Freight, has left Uber after seven years. He was the company's seventh employee.
Chambers, who describes himself as Uber's "secret weapon" on LinkedIn, was director of engineering for Uber's trucking operation when he left, but had previously led other projects at Uber, including UberEATS and a catch-all logistics operation formerly known as "Uber Everything."
Here's a video of Chambers from 2015:
Back in 2013, Chambers was named on a patent application as one of five inventors of Uber's surge pricing, alongside then-CEO Travis Kalanick. Surge pricing was Uber's demand-based pricing mechanism, which passengers widely hated but which helped drivers earn more money and kept Uber running in the early days despite things like major holidays, sporting events, and bad weather.
Uber confirmed that Chambers was no longer with the company, but declined to comment further. Chambers didn't immediately respond to an email requesting comment.
In a farewell email that a source close to the company shared with BuzzFeed News, Chambers told Uber employees that he's leaving the company to spend more time with his family.
Chambers' departure comes at a difficult time for Uber. The company will soon face Google in court over allegations that Uber stole self-driving car technology from Google when it acquired the startup of former Google engineer Anthony Levandowski. That startup was Otto Trucking; Uber Freight is currently run by Eric Berdinis, who worked at Otto and joined Uber as part of that acquisition.
It's also been a dramatic week for Uber at the board level. Late last week, ousted CEO Kalanick named two new members to Uber's board in a move that surprised even the company itself. Though it briefly looked as though Kalanick planned to go head to head with his replacement, former Expedia CEO Dara Khosrowshahi, the matter was settled during a board meeting on Tuesday, when the directors reached a compromise on how to restructure Uber's governing body.
One of the new rules that Uber's board unanimously confirmed brings an end to supervoting, a rule which gave early Uber employees and shareholders extra votes, and therefore more control over the company. Venture capitalist Shervin Pishevar, an early Uber investor, threatened to sue Uber's board over the issue, calling the move a "naked violation and repudiation" of the shareholder rights of early Uber employees.
Before Uber, Chambers worked at Expensify, which was founded by David Barrett in 2008. Barrett previously worked at Red Swoosh, the startup Kalanick founded pre-Uber, which was acquired by Akamai in 2008. If Twitter is any indication, Kalanick and Chambers have known each other for almost 10 years.
Back in January, when Uber was facing pressure from consumers over its perceived effort to break a taxi driver strike staged in opposition to President Trump's proposed travel ban on people from certain Muslim countries, Chambers defended Uber on Facebook, saying the company faced "constant pressure from all sides."
BuzzFeed News has also confirmed that Michael York, the Uber engineer best known for circulating a petition in favor of Kalanick's reinstatement following his forced resignation in June, has left the company. York declined to comment on the subject of Uber for this story.
Originally Posted By BuzzFeed - Tech