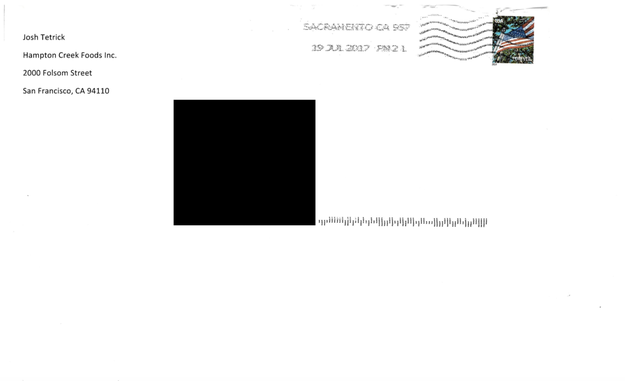 The envelope of a letter sent to a retailer this summer, containing allegations about Hampton Creek's products. The return address names Josh Tetrick, Hampton Creek's CEO; the company says he did not write this letter.
An investigator hired by Hampton Creek, the Silicon Valley food startup famous for its eggless mayonnaise, says a mysterious entity appears to be trying to sabotage it.
An unsigned letter sent this summer to an unnamed major retailer claimed that Hampton Creek had contaminated and mislabeled products, according to the investigator. And the return address indicated that it was from CEO Josh Tetrick — even though Hampton Creek denies he wrote it.
The investigator told BuzzFeed News this was one of two known such anonymous letters — and the other was sent to Target, which issued a high-profile recall of Hampton Creek's products as a result.
While it's unclear whether the two letters were identical or sent by the same person, the identity of the sender or senders is "the million-dollar question," said the investigator, who requested anonymity. "It's clearly fraud." He also said that Hampton Creek is "weighing their legal options."
At the time of its recall in late June, Target publicly said that the allegations it had received were unconfirmed, but specific and serious enough to warrant action.
Those claims included allegations that pathogens like salmonella and listeria were found in Hampton Creek products and at one of the facilities where the company's products are made; that some products were incorrectly labeled as non-genetically modified; and that the company failed to list honey as an ingredient in its sweet mustard salad dressing.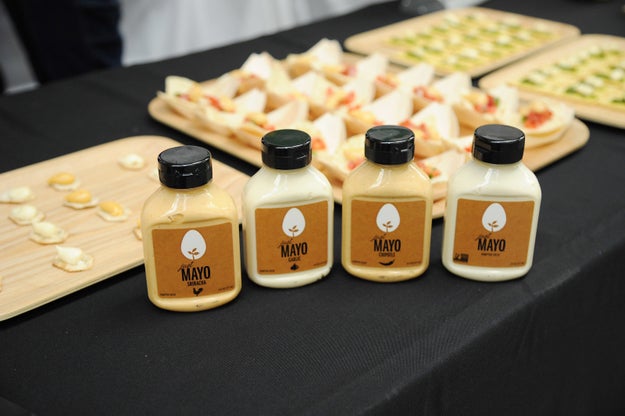 Bryan Bedder / Getty Images
This week, Hampton Creek said it's working to get back on Target's shelves after the Food and Drug Administration reviewed its products and told the company it found nothing of concern. Target had carried around 20 of Hampton Creek's items, which include eggless mayonnaise, cookies, cookie dough, and salad dressing.
"More than a month ago, Target was led to believe that several of our products were mislabeled or unsafe," Hampton Creek spokesperson Andrew Noyes said in a statement. "We've remained confident that our products were safe and properly labeled, and that when presented with the facts, the FDA would agree. As expected, they have. They informed us, after reviewing applicable evidence, that the matter is closed."
A Target spokesperson did not immediately return a request for comment.
News of the Target recall was originally broken by Bloomberg. The investigator said that in addition to being mailed in an envelope with a return label that falsely named Tetrick, the letter also indicated that a copy was sent to Bloomberg.
This is the latest twist in a tumultuous summer for Hampton Creek. Last month, Bloomberg reported that at least five members have left the startup's board of directors, leaving only Tetrick.
But on Tuesday, Hampton Creek also got the effective green light from the FDA to use a proprietary ingredient — a mung bean protein isolate — in a forthcoming product, Just Scramble, an egg substitute that scrambles like an egg.
LINK: Hampton Creek Has Ditched Its Name, And Is Now "Just."
Originally Posted By BuzzFeed - Tech