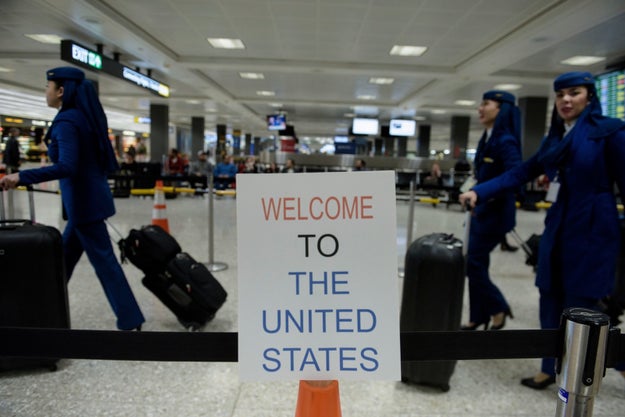 A Saudia airlines crew arrives at Washington Dulles International Airport on February 6, 2017.
Brendan Smialowski / AFP / Getty Images
At least two Middle Eastern airlines are telling passengers that laptops, tablet computers and other electronic devices are no longer allowed as carry-on items in flights headed to the US, citing orders from US authorities.
A representative of Saudi Arabian Airlines, based at JFK International Airport in New York, told BuzzFeed News that the ban begins immediately, and covers all electronic devices, excluding cellphones. They said it applies on flights headed to the US, but not on Saudi-bound flights.
The representative declined to answer further questions and said inquiries should be directed to the TSA. The Saudi daily newspaper Al Riyadh quoted the country's civil aviation authority as saying the ban applies to all US-bound flights from Saudi Arabia.
Details of the ban will be announced on Tuesday, NBC News reported, saying such changes to security rules "are made periodically in response to threat intelligence, and laptop computers have long been the source of concern." The Guardian reported that the ban will apply to flights from 13 countries, and was announced to airlines on Monday via a confidential advisory from the TSA.
"There is a security concern regarding passengers boarding non-stop flights to the U.S. from some specific countries," CNN reported, citing an unnamed US official. "The directive is to ensure enhanced security measures at select airports for a limited duration."
The Transportation Security Administration referred inquiries to the Department of Homeland Security. A Homeland Security spokesperson told BuzzFeed News: "We have no comment on potential security precautions, but will provide an update when appropriate."
A Republican aide to the House Homeland Security committee confirmed to BuzzFeed News that Chairman Michael McCaul and committee members had been briefed on the issue, but could not provide additional details.
Adam Comis, a spokesperson for Democrats on the committee, said ranking member Bennie Thompson had been briefed but Comis said he could not provide more details about the ban either.
Royal Jordanian Airlines informed passengers of a ban coming into effect on Tuesday. "Following instructions from the concerned US departments," it said in a tweet, all electronics are banned on US-bound flights, with an exception for cellphones and medical devices.
That tweet has since been deleted. In a response to inquiries from BuzzFeed News, a representative said "further updates will be announced soon."
Here's the original, deleted Royal Jordanian tweet.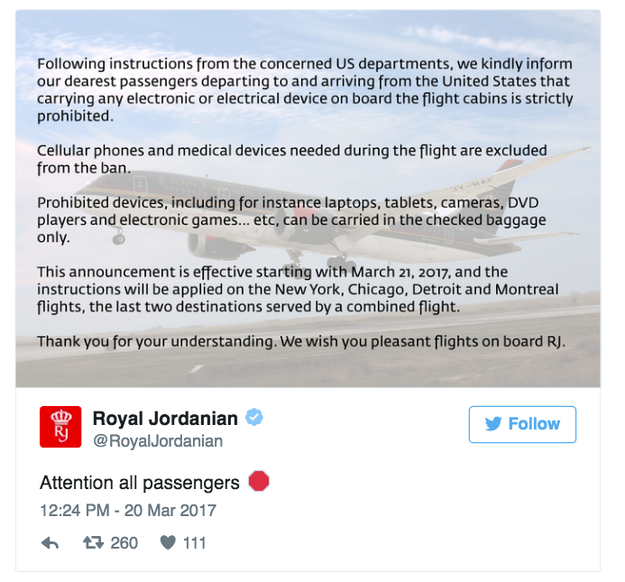 JFK-based representatives of Dubai's Emirates Airline and Doha-based Qatar Airways said they had not heard of any changes. BuzzFeed News has reached out to other Middle Eastern and African airlines, and will update this article when responses are received.
BuzzFeed News reporter Emma Loop contributed to this report from Washington, DC.
Originally Posted By BuzzFeed - Tech