WHY ARE THERE SO MANY?!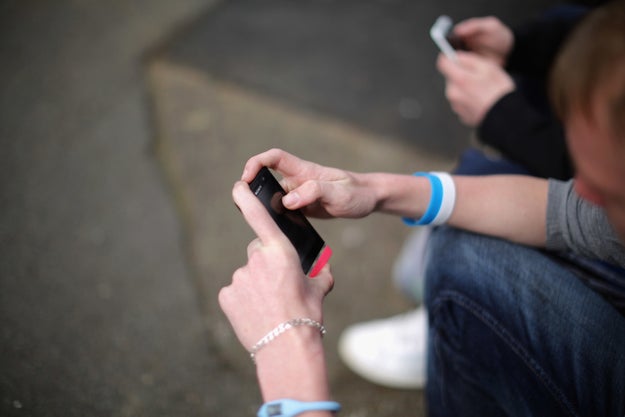 There are so many ways to send a message these days. Google Voice recently added texts, group messaging, and transcribed voicemail after not updating their app for *five years,* bringing the number of Google's messaging apps to four (including Hangouts, Allo, and Duo). Facebook's got two apps (WhatsApp and Messenger). Microsoft's got two apps (GroupMe and Skype). Apple also kind of has two apps (iMessage and FaceTime).
That doesn't include all of the other, independent messaging apps out there like Viber, WeChat, LINE, Telegram, and Kakaotalk, to name a few.
It's true. We live in a time of TOO MANY messaging apps. So if you're feeling lost in this ~brave new world~ of online communication, here's a guide to the best platforms.
Christopher Furlong / Getty Images
LINK: If you don't want to read a lot of words, just take this quiz instead.
The ~*ultimate*~ cross-platform messaging app is WhatsApp.

WhatsApp (free, iOS, Android, Windows phone and web) is the Ultimate Messaging App. It has a giant user base, is super fast, works on many different devices (even Blackberry!), has an easy-to-understand interface, and provides end-to-end encryption.
Plus, the Facebook-owned app has over one billion users on its platform, so it's likely that some of your friends already using it.
WhatsApp offers free text messaging, group messaging, voice, and video calls over cellular data or Wi-Fi. It has a simple, easy-to-understand interface, without the overwhelming bells and whistles of the Viber and Line apps. The app is also fast. Multimedia (like photos, videos, audio messages and files up to 100MB) are compressed automatically by the app, so they send quickly even when connection is poor.
One of my favorite features is the ability to "star" messages with important reference information and access all of those starred messages in one, convenient place.
You can send and receive WhatsApp text messages from your mobile phone or the web. There is, unfortunately, no native desktop app and you can't voice or video call from the web.
The app is encrypted end-to-end by default, but it can record metadata like the date, timestamp, and phone numbers associated with a message, according to a recently revised privacy policy. The app also announced last year that it was going to start sharing user information with Facebook, though it did let users opt out before agreeing to the updated terms of service. If you didn't opt out before updating, you got an additional 30 days to make your choice.
Nicole Nguyen / BuzzFeed News
If you – and most of your contacts – have iPhones, it's a no brainer: use iMessage.
For iPhone users, iMessage ticks all the boxes.
You don't have to sign up for anything. It's the default messaging app on all iPhones, unlike on some Android devices, where there can be up to four messaging apps to choose from (Hangouts? Allo? Duo? The cell carrier's own messaging app?).
It works seamlessly with FaceTime video and audio calling over data or a cell connection. It's encrypted end-to-end (although, only when you message other iPhone users). It works on your phone, it works on your Mac, and it works on your iPad. It lets you send lasers to your friends. It automatically sends texts via iMessage when it's appropriate, and regular SMS to those outside the "blue bubble." It can handle all kinds of media: GIFs, contacts, location, links, photos, videos, and voice memos.
You can use Siri to check messages or send new messages, and install integrations from the new iMessage app store. You can also access Yelp, Venmo, and Dropbox without ever leaving the Messages app.
Sure, there's still room for improvement. Namely, lack of compatibility with ANY OTHER PLATFORMS (ugh). Apple can also collect some metadata, like the numbers you enter into iMessage, which are sent to Apple servers to determine whether or not the message should be sent through iMessage or SMS. Apple retains that data for up to 30 days, and can be compelled to hand it over to law enforcement with a subpoena or court order.
If iMessage were cross-platform, it might be the Perfect Messaging App. But until then, it's the best option for those with iPhones to communicate with other peeps with iPhones.
Nicole Nguyen / BuzzFeed News
---
Originally Posted By BuzzFeed - Tech