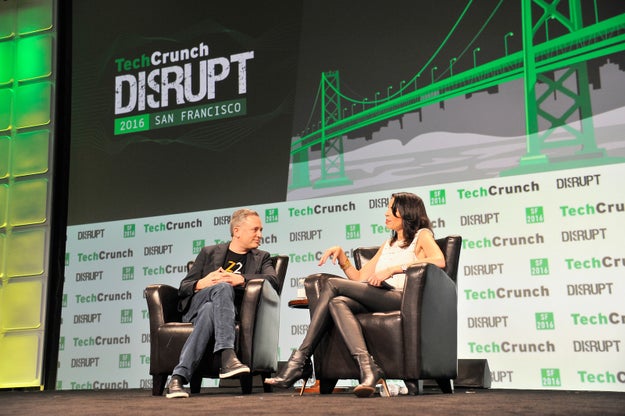 Zenefits CEO David Sacks speaks at TechCrunch Disrupt SF on September 13.
Steve Jennings / Getty Images
Zenefits, the $2 billion health insurance startup seeking to recover from a scandal that brought down its founding CEO, has racked up nine-figure losses that are eroding its store of cash, a confidential document reviewed by BuzzFeed News shows.
Zenefits lost $204.5 million in its last fiscal year, which ran through the end of January, on revenue of $43.5 million, the document shows. In the first half of its current fiscal year, Zenefits lost money at about the same pace, with a $100 million loss on revenue of $35.3 million.
The startup health insurance broker, which raised $512.6 million of venture capital in May 2015, saw its total amount of cash dwindle to $272.4 million as of July 31 this year, the document shows. Companies generating large losses generally burn cash quickly and have to seek additional capital if they fail to become profitable.
At the same time, Zenefits' revenue is increasing more quickly than its costs, though not at the explosive rate its venture capital backers might like. Its revenue in the six months from February through July equates to $70.6 million on an annualized basis — which would represent a 62% increase from the prior year. Its costs and expenses, annualized for the same period, would increase by just 12%.
The financial details, contained in a message sent to shareholders in November, show Zenefits continues to face financial challenges even as it cleans up a legal mess that nearly sank the company this year.
Zenefits — which gives away human resources software to small businesses and makes money by selling those businesses health insurance — ousted its founding CEO, Parker Conrad, in February after revelations that it flouted state insurance laws. The new CEO, David Sacks, has overseen a string of regulatory settlements, including a $7 million deal with California regulators announced this week, and has overhauled the company's approach toward compliance.
In spite of the red ink, Zenefits' deep-pocketed investors are unlikely to let it run out of cash. The company is backed by some major investment firms, including TPG and Fidelity, and prominent venture capital shops including Andreessen Horowitz (which also is an investor in BuzzFeed).
Once considered among the most promising startups in Silicon Valley, with a $4.5 billion valuation, Zenefits slashed its valuation to $2 billion in a deal with its investors in June. It also laid off hundreds of staff this year, in a broad reorganization and cost-reduction effort. The company unveiled a new software platform, called Z2, at a sold-out conference in October.
Last year, the company fell short of its targets for a metric called "annual recurring revenue," according to a Wall Street Journal report at the time. That metric refers to expected annual revenue based on commissions at a given point in time. It remained roughly flat this year, just above $60 million, according to a Bloomberg News report in October.
"We are proud of what we have accomplished this year," a Zenefits spokesperson told BuzzFeed News in a statement. "We became an industry leader in compliance, cut costs through greater focus on our core market, and maintained a customer base with over $60 million of [annual recurring revenue]. Today, Zenefits has hundreds of millions of dollars in the bank, plenty of runway, and an amazing new version of our product. There is still more work to do, but on the heels of Z2, we are seeing a return to growth that is very encouraging."
A detailed picture of Zenefits' financial performance has never previously been made public. Here is a selection of the numbers, according to the document reviewed by BuzzFeed News:
Fiscal year 2017, First Half (Feb. — July 2016)
Revenue: $35.3 million
Total costs and expenses: $133.5 million
Net loss: $100 million
Fiscal year 2016 (Feb. 2015 — Jan. 2016)
Revenue: $43.5 million
Total costs and expenses: $237.6 million
Net loss: $204.5 million
Fiscal year 2015 (Feb. 2014 — Jan. 2015)
Revenue: $7.8 million
Total costs and expenses: $51.5 million
Net loss: $43.7 million
Originally Posted By BuzzFeed - Tech