A Texas judge has dismissed a lawsuit against a couple accused of violating their contract with a pet sitting business by leaving a 1-star review on Yelp.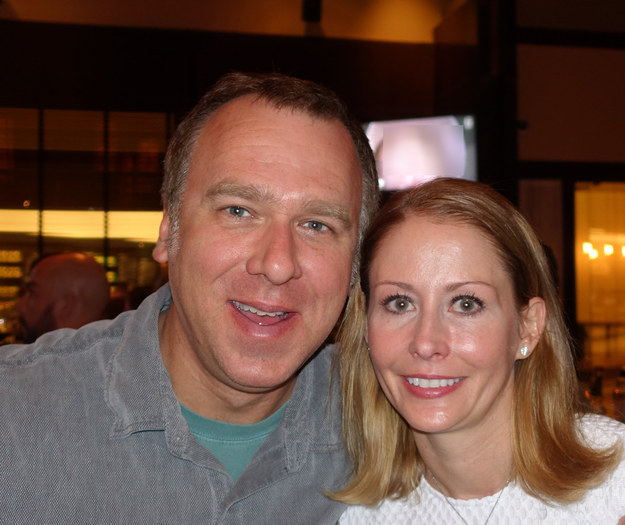 Carrington Coleman Law Firm/Monica Latin
Robert and Michelle Duchouquette from Plano, Texas were sued by Prestigious Pets in Dallas after they wrote the one-star review. The company said the review violated a clause in its contracts which prohibits customers from publicly criticizing the business.
The Yelp review complained of poor communication from the company and a lack of clarity about prices — along with lackluster maintenance of the couple's fish bowl. "The one star is for potentially harming my fish," Michelle Duchouquette wrote in its conclusion. "Otherwise it would be have been two stars."
Prestigious Pets sought $200,000 to $1 million in damages in the suit, claiming the couple defamed it and violated a non-disparagement clause in its contract with them.
In response to the judge's dismissal of the case, a Prestigious Pets spokesperson told BuzzFeed News the company is considering appealing the ruling, and is "confident that Texas law supports enforcing their contract, including the non-disparagement clause."
The company said its claim is particularly strong "given the proof presented that Prestigious Pets never agreed to care for the fish, was not paid or hired to care for the fish, and the fish was never harmed."
The business has said in court documents that the Duchouquettes' "media campaign" around the lawsuit led to a "dramatic decrease in new business and the loss of current clients that has left Prestigious Pets a shell of its former success."
The couple asked the court to dismiss the case in June, arguing their review was an exercise of their right to free speech.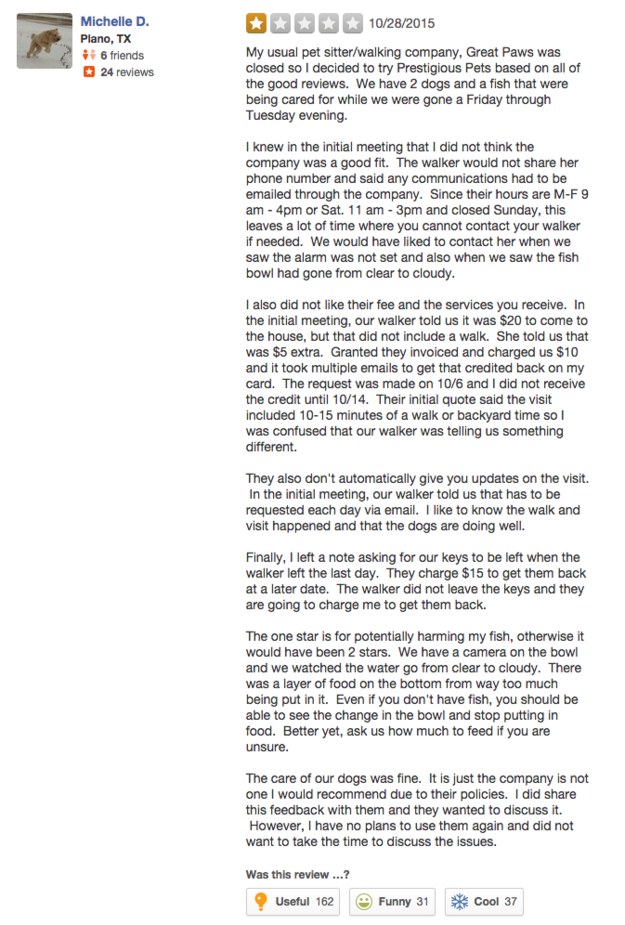 Yelp / Via yelp.com
"The burden is on the plaintiffs to establish, by clear and specific evidence, each essential element of each of their claims," the couple said in a court document. "They cannot do so."
The judge apparently agreed. District Court Judge Jim Jordan dismissed the allegations against the Duchouquettes and ordered Prestigious Pets to cover their attorneys' fees.
The judge also said the couple was entitled to "recover sanctions against the plaintiffs sufficient to deter them from bringing similar actions" under the state's free speech codes.
In May, Yelp placed an alert on its page for Prestigious Pets, warning users the company may be issuing "questionable legal threats" against reviews. The consumer alert was the first of its kind issued by Yelp.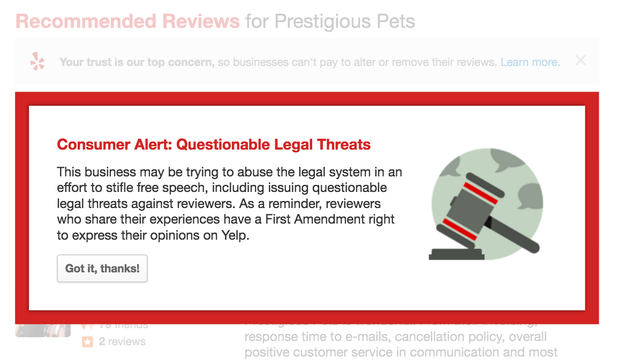 Paul Levy, an attorney with Public Citizen, who represented the Duchouquettes, told BuzzFeed News that the order is a useful step in efforts to protect consumers from being slapped with similar so-called gag clauses.
"The very fact that a non-disparagement clause was held unenforceable shows other consumers that they can stand for their rights," he said. "What consumer wants to hire a company that sues its customers and has a non-disparagement clause in its contract?"
Michelle Duchouquette said in a statement to BuzzFeed News that the couple is "thankful to have a ruling that supports our right to free speech."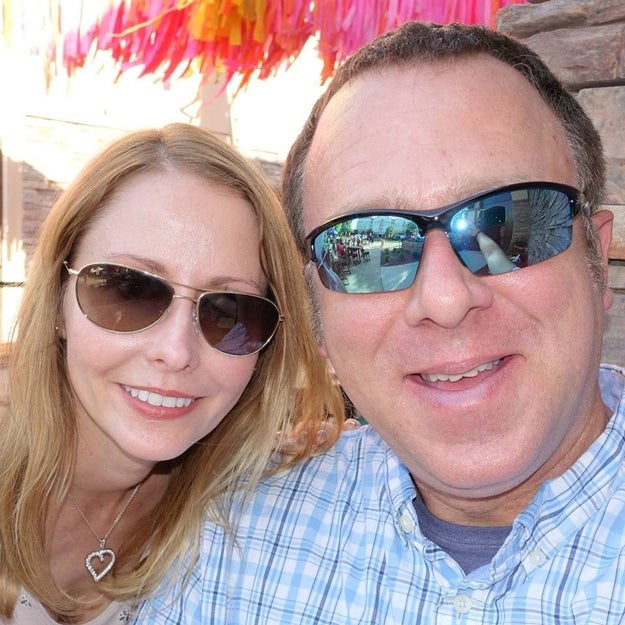 "We are so grateful for the attorneys who have supported us through the case," she said. "It took lots of hours and many smart minds spending too much time talking about Gordy the betta fish. Thank goodness they did not lose sight of the real issue: the threats posed by non-disparagement clauses to our right to free speech."
LINK: A Pet Sitting Business Sued These Customers For Posting A Negative Yelp Review
LINK: Yelp's Warning: This Dentist Might Sue You For Posting A Negative Review
Originally Posted By BuzzFeed - Tech