*Un-like.*
So if you haven't heard, the social media world is in a straight-up ~tizzy~ because Instagram is changing its algorithm.
The social media app announced on March 15 that it is planning to change its algorithm to highlight posts that it thinks users want to see more than others, rather than show pictures in chronological order.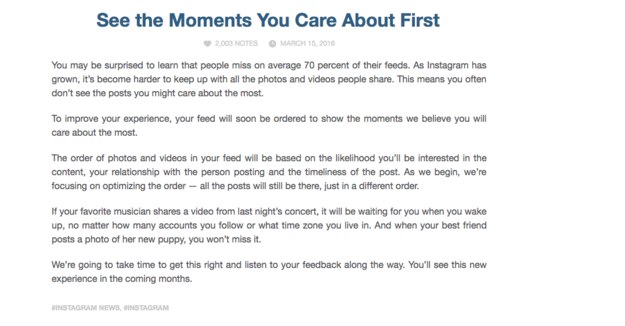 Instagram
"The order of photos and videos in your feed will be based on the likelihood you'll be interested in the content, your relationship with the person posting and the timeliness of the post," Instagram said in a blog post. "As we begin, we're focusing on optimizing the order — all the posts will still be there, just in a different order."
Even though Instagram said the change will happen sometime in the next "couple months," for some reason this weekend Insta users were gripped with PANIC that the change was imminent.
---
Originally Posted By BuzzFeed - Tech