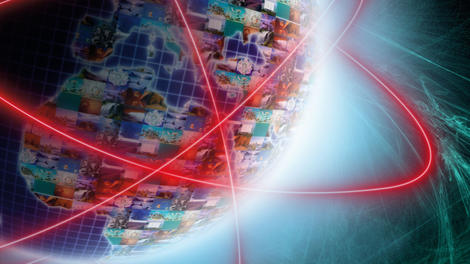 As the IT services industry stands at the crossroads of change, what are the key trends and innovations that will drive this sector over the coming months and years? Who will be the biggest winners and losers, and what is the role that innovation has to play in helping society at large? We spoke to Steve Mitchener, UK CEO of NTT DATA, to discover the answers to these questions and more.
TechRadar Pro: What are the main technological trends and innovations that are driving the IT outsourcing market in the UK today?
Steve Mitchener: Cloud technology offers companies the ability to develop new business models and fundamentally change the way they consume technology services. Companies such as Amazon, Google and Microsoft have disrupted the market, creating increased competition and forcing the traditional players, such as IBM and HP, to reinvent themselves in order to compete effectively.
The multiple different delivery models, such as Paas and Saas, whether public, private or hybrid cloud scenarios, can all be combined, competitively priced and packaged as an alternative to running their own expensive and less flexible data centres or to committing to long-term, typically less flexible outsourcing contracts.
Despite this, the adoption of cloud by some big companies has been slower than first heralded and concerns about data security have been exacerbated by the Snowden affair, and the likes of the iCloud spillage. However, the impact of cloud computing on the outsourcing market can't be ignored. Amazon, Google and Microsoft are all slashing prices and improving data encryption, which will undoubtedly drive increased market penetration.
TRP: Which vertical sectors will be particularly key to driving growth in the IT services industry in the coming months and years?
SM: I'd expect to see continued growth across the board in the IT services industry moving forward. However, I have no doubt that some sectors will benefit more than others, with the banking, insurance, telecommunications and public sectors likely to benefit more than most.
Growth in these sectors will be driven by a number of factors. In the banking and insurance sectors, growth in IT services will largely be driven by governance and regulatory compliance. Growth in telecommunications, meanwhile, will largely come from customer acquisition and retention, as well as operational streamlining, while digital transformation and operational efficiencies will aid growth in the public sector.
TRP: How important is the role innovation has to play beyond the realm of business, and how can it be used to create a 'greater good' in society?
SM: Innovation has a pivotal role to play in tackling some of the issues faced by society head-on. I've seen first-hand examples of how it can change social infrastructure and act as a real force for good in society. For example, advanced 3D mapping techniques are now able to provide unprecedented detail of the world's landmass, capturing undulations in the ground with a height accuracy of 5 metres. This could play a critical role in helping to tackle some of the issues created by rising seas and climate change.
Innovation can also be used to tackle the problem of a rapidly ageing population and the rise of dementia. Sensors have been developed that can be used to monitor the health and independent living of elderly people within their home or residence, and which can alert carers or medical authorities to emergency situations. At both local and global level, there's no doubt that innovation can be viewed as an important tool for helping to create a 'greater good'.
TRP: As the age of the so-called 'mega-deal' in UK IT outsourcing fades, to what extent do you think that building long-term relationships is becoming more of a key consideration than total contract value?
SM: Developing and building long-term relationships has always been the cornerstone of any successful IT outsourcing engagement. There is a significant difference between being 'locked into' a long-term contract and 'building' a long-term relationship.
Traditionally, the former happens largely because of long-term mega-deals that have been put in place with a particular partner, and we're seeing a clear trend of organisations moving away from this approach. The latter is about the willingness and ability to share risk and reward with clients, and this is something that more IT services providers are starting to embrace.
TRP: In an economy that is still finding its feet, how important are those able to deliver cost efficiencies and increased performance through the delivery of IT services? Is IT outsourcing a long-term solution, or a short-term fix?
SM: As the UK's economic recovery continues, there still are, and always will be, IT outsourcing engagements that are purely focused on achieving cost efficiencies. However, I'd always advocate looking at the larger picture and making decisions for the long-term where possible.
Remember that IT services should never be implemented as a short-term fix, and should aim to satisfy both long-term objectives of creating sustainable value, while also resolving short-term issues such as cost efficiencies.
TRP: In an increasingly competitive landscape, how important is the role that innovation can play in differentiating IT service providers from one another?
SM: In any competitive landscape, the ability to demonstrate an innovative approach is vital to any business looking to establish a unique position, and the IT services industry is no different. Unless you can demonstrate an innovative approach, you will consistently be in a 'follower' position and only be able to compete on price.
It's for this reason that we see many IT services providers investing so strongly in R&D and patents. The ability to offer game-changing technology, such as artificial intelligence for real-time conference call translation services, or big data analytics to forecast and prevent traffic congestions, can be a real point of differentiation.
TRP: To what extent do larger, more experienced IT services providers have a responsibility to stimulate growth in the UK by collaborating with smaller companies and acting as a services integrator? Is a multi-sourcing model, made up of smaller providers, overseen by a larger, more experienced integrator, a sustainable route to growth?
SM: In an increasingly complex, specialised and fragmented IT services market, the ability to multi-source and include experts from each field, large or small, is becoming an increasingly important consideration. No organisation is, after all, large enough to develop and build everything in-house.
Large enterprises have a mission to work closely with smaller, specialist companies both from an economic as well as a social perspective. Economically, it means that they are able to offer better services at a lower cost base by being the prime contractor (which can, in turn, reduce admin burden and costs). Just as importantly, on a social level, it also allows them to provide a channel for emerging technologies and services to be introduced to the mainstream market by providing stability and scale.
TRP: As the IT industry continues to evolve, what do you see as the key characteristics of IT service providers in the next five years?
SM: The traditional client/supplier relationship will become a thing of the past and IT service providers will evolve to the point where they are considered as strategic partners, and not just vendors. As a result, we'll see both parties working closely together, sharing objectives and building long-term relationships.
The ability for IT service providers to continuously innovate will also continue to be a key differentiator, as will the ability to predict technical and commercial trends of the future. Technology helps create a flatter world, and the ability to operate on a global scale whilst adhering to local requirements will be a key requirement in the coming months and years. This should drive further consolidation in the market, as well as a focus on the ability to work together with various partners and organisations worldwide.
Originally Posted By TechRadar: All latest World of tech news feeds